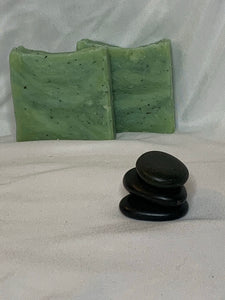 An energizing blend of 100% organic green tea and tea tree essential oil to make a germ-fighting antifungal and antibacterial soap. Tea tree is also know to help in the treatment of acne and oily prone skin. Helps eliminate strong body odor. Natural mosquito repellant.
Ingredients: 100% Tea tree essential oil, Ground green tea leaves, Olive oil, Coconut oil, Castor oil, and NaOH. 
Handmade hot process soap.